The first full week of school is kind of a drag as most honors and AP classes just start making due dates fall down on students like meteors, but Design Lab was a breath of fresh air as we are starting our classroom redesign project. It's also a bit stressful knowing the kinds of projects we'll be working on in there, but I'll worry about that when it happens.
This week passed by in a blur even though it felt like a millennium,  but what stuck out to me in D-Lab was how every day the class was told to embrace our creativity and let go of anything clogging up our heads. We do a ritual every day of the week, which includes Mindful Monday, Team Building Tuesday, What Bugs You Wednesday, Sketch-it Thursday, and Reflection Friday. While I don't really remember what we did every day, I thought the rituals on Wednesday and Thursday were interesting because they were both a way for your brain to vent. What Bugs You Wednesday was literally all of the kids writing down things that annoyed them or bothered them, and then we put them on a poster. It was supposed to let us express our opinions, and it was interesting to see what came to my mind. Sketch-it Thursday just helped everyone figure out how to sketch more easily by drawing objects using basic shapes in 10 seconds. That will be useful to me as an artist who also has perfectionism problems, as I take a sketch as "draw something with immense detail for a good couple of hours".
Between all of our class rituals this week, we also had an assignment to read an article and people-watch in our different classes as an introduction to the classroom design project we are doing until the end of September. People-watching was really hard in other classes, as I was busy with classwork and had to take test, but I did observe how some students seemed fidgety, and we all got bored after a little while.By identifying the problems some students had in class, we could try to figure out exactly what was the most important thing to redesign.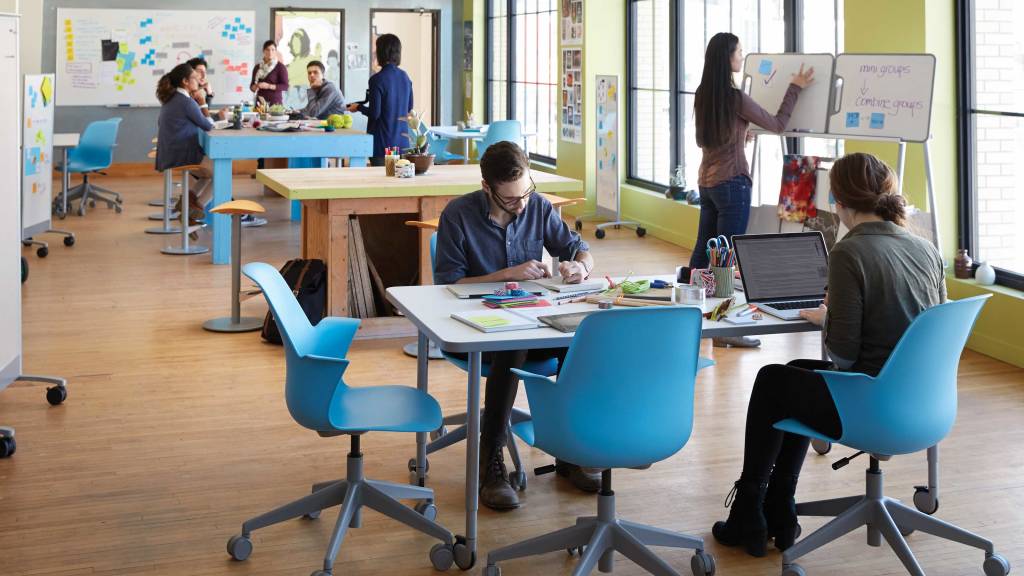 Our observations were all tied in and explained by the articles from Steelcase 360 that talked about how the classroom's design directly impacts the learning of the student. The class was split into two teams to read two different articles, and my team got to read the article "Making Way for Making". The article was really cool as it showed some furniture the company makes for classrooms and the way design schools around the country are changing up their classrooms so that they are more functional and inspiring. My team loved all this, and we talked about how this connected to what one person knew of the other article and how students learn best in certain set ups and working patterns. By looking at everything, we all concluded that for our own classroom redesign we need to think about having areas for students to work independently or collaboratively, and other areas for kids to relax and think as a way to take a break before or after working on something. Hopefully our presentation goes well tomorrow!